Live events:
October 27th 2018 (with PRON SIG)  London    10:00 – 17:00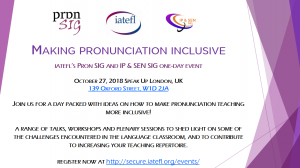 "Making pronunciation inclusive"   information here
Register here.
November 10th 2018 (at the PARK conference) Brno
"Reaching out and unlocking potential"
You can find all the information about the conference
here

.
November 17th 2018   London  9:30 – 17:00
"Reaching out with creative arts"
Want to make more (or better) use of drama, comics, story-telling and musical activities in your classroom? Join Anna Pires, Rossie Stone of Dekko Comics, Jane Maria Harding da Rosa and Anette Igel as they show you some great practical ideas that you could use with your learners.
Register here  until Sunday 11th November.
(After that, register and pay on the door.)
November 24th–25th (with TESOL Greece & BELTA) Athens
10:00-20:00 and 10:00 – 15:00
"Dare To Be Different: learn, develop, succeed"
If you have an idea for an event and would like the input of the Inclusive Practices and SEN team, just let us know!
Webinars:
November 10th    (5 pm UK time)
Giovanni Licata:    "What's sexuality got to do with it?"
Find out more and register here.
December 13th   (5 pm UK time)
Fabio Filosofi:"The  inclusive  backdrop  theory:  the  representation  in  school  textbooks  and   materials"
Find out more and register here.