Conferences
IATEFL Brighton, 2018
Pre-Conference Event: Monday 9th April, 2018
Ahead of the 2018 IATEFL conference in Brighton, the IP&SEN SIG held a one-day event: 'Reaching Out to students with SEBD and sensory differences'. These were our 4 great speakers (click on the name to see the presentations, where available):
Marie Delaney – Teaching the Unteachable – From Reaction to Reflection
Poor attachment, loss and trauma can leave students feeling unsafe and unable to learn.  Understanding, recognising and breaking these patterns allows us to unlock learning blocks and change behaviour.
Maha Khochen-Bagshaw – Building inclusive classrooms for all learners, including those with vision impairment (VI)
Learners with VI are a diverse group needing access to information and quality education. A collaborative approach and differentiation can support inclusion, while the use of assistive technology has pros and cons.
Alison Winter – Hearing Matters: Inclusive approaches for students who may be deaf, have a hearing loss or tinnitus
Greater deaf awareness benefits all students, and hearing assistive technology can also reduce stress in students who have Autism.  Learning sign language can help students acquire English faster and can be included in the classroom routine.
Rachael Harris – Bringing it all Together: a translation workshop
In this final workshop participants drew on what they had learnt throughout the day, as well as their personal experience, in order to anticipate difficulties and then "translate" a variety of common classroom activities into more Inclusive activities that would support and stretch the learning of all students in the class.
SIG Showcase Day: Tuesday 10th April, 2018
The first day of IATEFL was our chance to have a thread running through the whole day exploring different aspects of inclusive practice. Our speakers for the day were:
Kieran Donaghy – Values and short films in language teaching
Damian Cunniffe – How teachers can take the lead in SEN
Eva Wilden – Inclusive primary TEFL in an innovative school: an evaluation study
Emily Hodge – Differentiation at the heart of the inclusive classroom
Marie Delaney – Challenging behaviour as an SEN: teaching students with behavioural difficulties
Giovanni Licata – Queering your pedagogy: teachers' queries out of the closet
At the end of the day we also had an Open Forum where we discussed SIG activity over the past and coming years, and discussing the issue of bullying through interactive role-plays.
 Live Events
Dare To Be Different: learn, develop, succeed.
November 2018 (with TESOL Greece & BELTA) 

Making pronunciation inclusive     
October 2018 (with PRON SIG)
Reaching out and unlocking potential   –  November  2018 (at the PARK conference) Brno
You can find all the information about the conference
here

.
Watch out for an article by our Roving Reporter – coming soon.
APPI Lisbon – April 2017
Three of our SIG members (Rachael, Rom and Varinder) attended the APPI conference in Lisbon. More details will follow soon.
IATEFL Glasgow 2017
We hosted our first PCE in Glasgow: Inclusion in action
You can download the programme here. Information and details of some sessions can be found here.
Webinars
 Fabio Filosofi: "The representation of individuals with special needs in materials: where are our students?"
December 13th   2018
The focus of this talk is in the area of teacher cognition. The session was inspired by two main questions: – What do teachers think about the representation of disability within textbooks? – Are we providing sufficient training to deal with textbook, which include images and texts of children and adults with special needs? In the first part of the session, findings from the first phase of the current research study will be introduced to analyze the challenges and fears expressed by informants on the introduction of inclusive materials. The second part of the session will examine a possible approach to improve the inclusiveness of classroom materials: the theory of the inclusive backdrop. Given the paucity of textbooks that represent disability, teachers may find themselves having to design materials in order to maximize inclusion.
Click here to watch the webinar: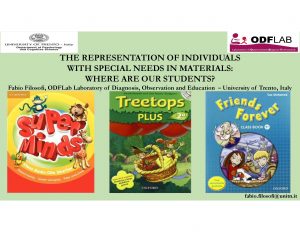 Giovanni Licata:    "What's sexuality got to do with it?"
November 10th 2018  

Watch the webinar here
Božica Šarić-Cvjetković:    "Inclusive activities for young learners"  
Saturday September 15th  2018
Watch the webinar here.
Read the blog by Božica Šarić-Cvjetković here.
Read the commentary by Anne Margaret Smith here.
In large mixed ability classes it is often difficult for teachers to cater for needs of all students and at the same time follow the school curriculum. Sometimes the students' abilities range from those whose level of English is way above the expected to those who struggle with reading and writing in their own language.
Students with learning difficulties often feel excluded when they are given different, easier tasks to do. Group work and project work has been the best solution so far but my experience has shown that fast learners often take over and slower learners just sit back and let others do the work. So, how do we make sure that all the students are actively participating and most importantly, learning?
I've been doing small scale projects with my students a lot, trying to find balance between the types of the activities, group formation and assigning the roles within the groups in order to include all the students in the learning process. In this talk I will present a mini project I did with a class of 26 eight-year-olds and point out the ways in which they were included in each of the activities, what their tasks were and what they accomplished individually, as a part of the group and as a part of the whole class. The participants will see the final products of the project and have the opportunity to ask questions.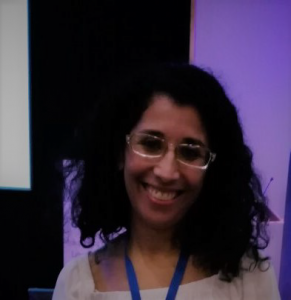 Yasna Yilorm  'Safe and Happy Children'
23 June 2018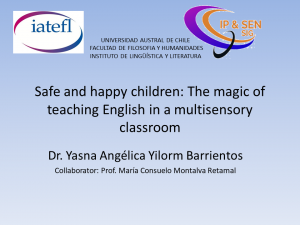 You can see the webinar by clicking on the slide here:
(Please note that the children in the videos are not the same children that Yasna worked with for her research. She was unable to use those videos for confidentiality reasons. Instead, the videos in this webinar show children from a school with a high Index of social vulnerability, where Yasna has been working to implement inclusive practices.)

Marie Delaney
'SEBD (Social, Emotional and Behavioural Difficulties) as a SEN' –  Sunday 29th October 2017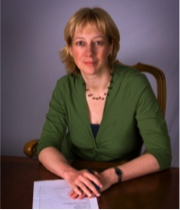 Anne Margaret Smith  'Including dyslexic language learners' 
10 September 2016
IATEFL members can watch Anne Margaret's webinar again here